A Brief Chess Autobiography by Bill Ingham
I first discovered chess when I lived in India where I was born, I was visiting my uncle's house when I saw him playing the game, that was the first time I came in contact with chess, I was seven at the time. I was totally perplexed and amazed at the way the pieces were being moved it was like falling head over heels in love with someone who you have only just met.
Many years passed and chess was never a part of my life, then we moved back England, London, in 1965 and I started a job at the age of fifteen years as a Toolmaker with a small engineering firm. It was during a lunch break I saw chess was being played and this awoke my interest again and I realised there was more to chess then just moving the pieces.
When I moved to Devon in 1995, I joined the Paignton Chess Club and very quickly became their top player; it was at my very first visit to Teignmouth Chess Club for a Torbay league match that I decided that Teignmouth was the club for me.
The first of many memories that I will cherish, was when I beat Alan Brusey, a formidable player, who always won it, to take the Teignmouth championship.
My ultimate and best memory must be the 2013/2014 season; I won all the clubs trophies including the championship, best player of the season award, the Devon individual, played on board one for the first team and achieved my highest grade of 176. However every action has a reaction, I was playing against, Mike Carter he was graded under 80 and I was 176, as the game proceeded I did not seem to be winning as I thought I must, then he gave a check and to my utter disbelief it was checkmate. I was devastated, but that thought me a lesson, always no matter who you play, do not play the person, and play the board. Bless him and I hope he is resting in peace; he is sorely missed, as he was one of the great characters of the club.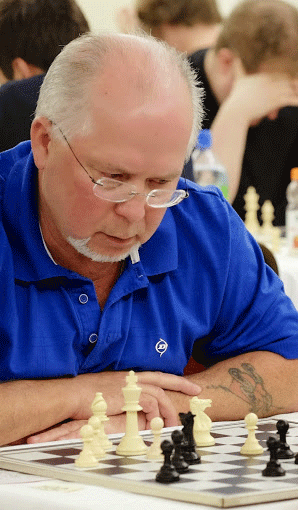 Bill Ingham at the Paignton Congress 2013